Bitcoin price today july 6 decreased slightly, and the market also recorded many currencies depreciating. The Italian government has just set up a $46 million support package for a blockchain project that meets the requirements.
Bitcoin price fell slightly today and the market also dropped in price.
Bitcoin price today recorded at 7:55 am at 20,291.30 USD, down 0.65% compared to 24 hours ago.
Bitcoin has a market value of $387 billion, representing 42.6% of the total market value. The market liquidity of bitcoin reached 6.87%.
In the market, 81 of the top 100 coins are down from 24 hours ago.
The biggest loser in the market was Compound, which lost 6.35% on the day.
The biggest gainer in the market is Convex Finance with a price increase of 20.55%.
Among the top 10 coins by market value, 7 out of 10 coins are down from 24 hours ago.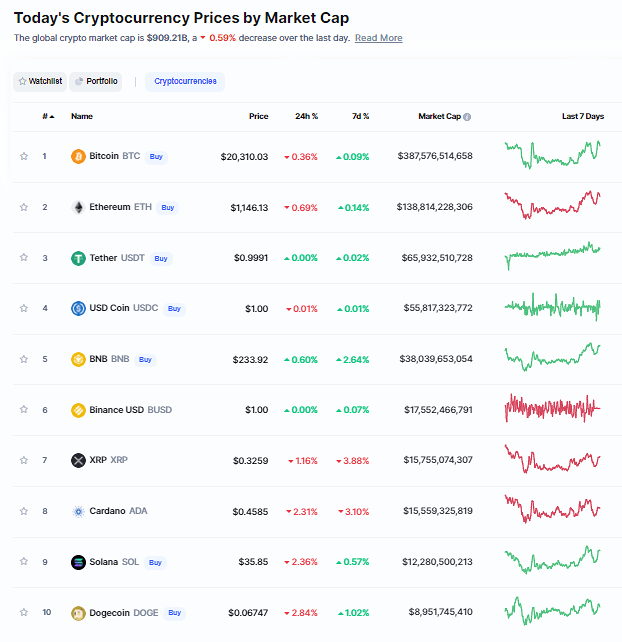 Ethereum slightly fell 0.69%, to $ 1,146.13.
Tether holds at $0.9991 USD.
USD Coin decreased slightly 0.01%, recorded at 1.00 USD.
BNB is up 0.6% on the day, to $233.92.
Binance USD fluctuates slightly, currently at 1.00 USD.
Ripple fell to $0.3259, losing 1.16% on the day.
Cardano is down 2.31% on the day, to $0.4585.
Solana fell to $35.85, 2.36% lower than 24 hours ago.
Dogecoin lost 2.84% in the last 24 hours, down to $0.06747.
The total cryptocurrency market value recorded at 8:20 am at $ 906 billion, down $ 5.38 billion compared to 24 hours ago.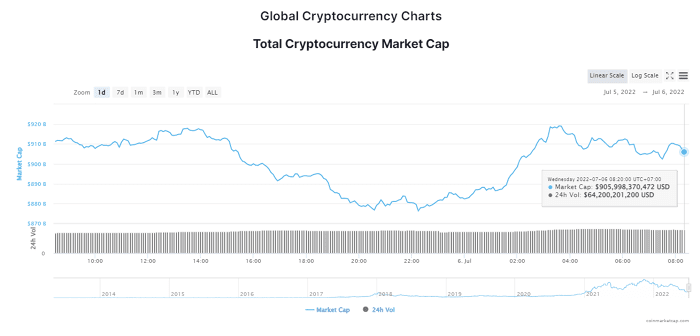 The 24-hour trading volume on the market increased to $64.2 billion, up 17.09% from July 5.
Italian government supports $ 46 million for blockchain project
The Italian Ministry of Economic Development announced that eligible blockchain projects will be able to apply for a $46 million grant from September.
In the announcement on July 5, the Minister said that companies and public and private organizations will be able to apply for the amount of funding for the development of projects related to artificial intelligence, Internet of things and technology. blockchain. The funding amount will have a budget of 45 million EUR (approximately 46 million USD) with costs ranging from 500,000 EUR (512,150 USD) to 2 million EUR (2,048,600 USD) in targeted investments in technology development, research and development. renew.
"We support the company's investments in cutting-edge technology with the goal of encouraging modernization of production systems through an increasingly connected, efficient, safe and speedy management model." , according to the Ministry of Economic Development Giancarlo Giogetti. "Competitive goals require the manufacturing industry to continuously innovate and utilize the potential of new technologies."
Bitmex bans Russian users in Europe
Major crypto exchange BitMEX is working to increase compliance with the European ban on Russia by introducing more restrictions on Russian users.
BitMEX is converting its regional restriction policy to comply with various EU restrictions.
Exchange BitMEX notified a group of potentially affected users of the change via email on July 5.
According to this email, Russian citizens and residents will not be able to access BitMEX services from the European Union after July 11, 2022. This means that users will not be able to access accounts or access services from the European Union, unless there are "exceptions".
Accordingly, citizens with dual Russian and EU or Swiss citizenship will not be affected.