Bitcoin price july 3 decreased slightly, and the market recorded many currencies depreciating. The price of bitcoin has plummeted in recent times, causing the market to lose many bitcoin millionaires.
Bitcoin Price today fell slightly, and the market also had many currencies falling at the same time.
Bitcoin price today recorded at 6:45 am at 19,219.04 USD, down 0.95% compared to 24 hours ago.
In the market, 55 of the top 100 coins by market value are down from 24 hours ago.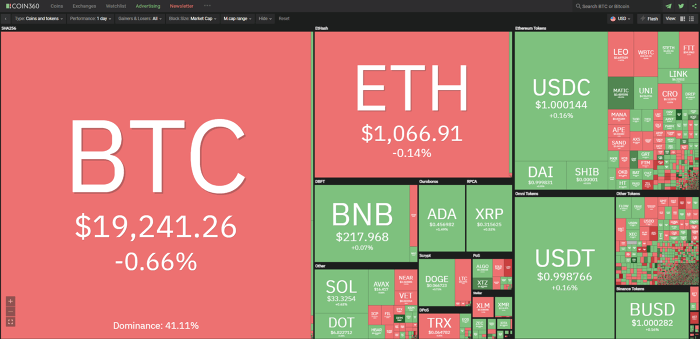 The most depreciated coin was TerraClassicUSD, which plummeted 13.78% on the day.
NEM gained the most in the market with a rate of 24.99%.
In the top 10, 5/10 coins are down compared to 24 hours ago.
Ethereum is at $1,067.12, down slightly by 0.33%.
Tether is up 0.01% on the day, recording at $0.999.
USD Coin is down 0.03% in the last 24 hours, currently at $1.00.
BNB is down 0.19%, to $218.17.
Binance USD slightly increased 0.17%, recorded at 1.00 USD.
Cardano is up 1.04% on the day, to $0.4567.
Ripple is up 0.29% over the past 24 hours, reaching $0.3161.
Solana fell slightly 0.01%, to $33.22.
Dogecoin is up 0.45% on the day, to $0.06674.
The total cryptocurrency market value at 6:50 a.m. was at $870.69 billion, an increase of $2.54 billion from 24 hours ago.
The market's 24-hour trading volume plummeted to 44.29 billion USD, a loss of 35.64% compared to July 2.
Coinbase Plans Expansion Through Europe Despite Recession
Coinbase Global said in the post on its website that it is planning to expand to Europe, even though the digital currency market is slipping.
"As part of our recently announced double-digit growth strategy, we are aiming to increase our presence in Europe," the exchange said on July 1.
While Coinbase already exists in the UK, Ireland, and Germany, they are looking to expand into France, Italy, Spain and the Netherlands, with the goal of launching products for individuals, institutions, and software developers.
Previously, on June 14, Coinbase said it had cut staff by about 18%, more than 1,000 people to adjust to the market downturn.
Over 80,000 bitcoin millionaires disappeared from the market
Over 80,000 bitcoin investors have lost their millionaire status due to the market crash, but lower prices mean more participants in total.
On November 12, just a day before bitcoin hit its all-time high of $69,000, a total of 108,886 bitcoin addresses had assets higher than $1 million, according to data from BitInfoCharts.
To date, the price of bitcoin is only $20,000, with only about 26,284 addresses remaining worth more than $1 million, meaning the number of millionaires on paper has dropped by more than 75% in the past 9 months.
However, bitcoin wallet addresses with more than 10 million USD are less affected. 10,587 addresses with a cash value of more than 10 million USD recorded last November, and there are still 4,342 addresses holding this amount, a decrease of 58%.
The market downturn also offers an opportunity for investors to hold 1 bitcoin, with more than 13,000 wallet addresses holding 1 bitcoin or more. The total number now reaches 860,000 addresses, which shows that retail investors are collecting large amounts of bitcoin while the price is falling.
All For Information Purposes Only And Not To Be Considered As Investment Advice You should do your own research before making an investment decision. Cryptotintuc is not a financial advisor and will not accept any responsibility in connection with your investment.