Bitcoin price today july 12 plummeted below the threshold of $ 20,000, leading to the decline of most coins on the market. BIS has just called on countries to work together to link the CBDC system.
Bitcoin price today plummeted below $20,000 and the market continued to fall.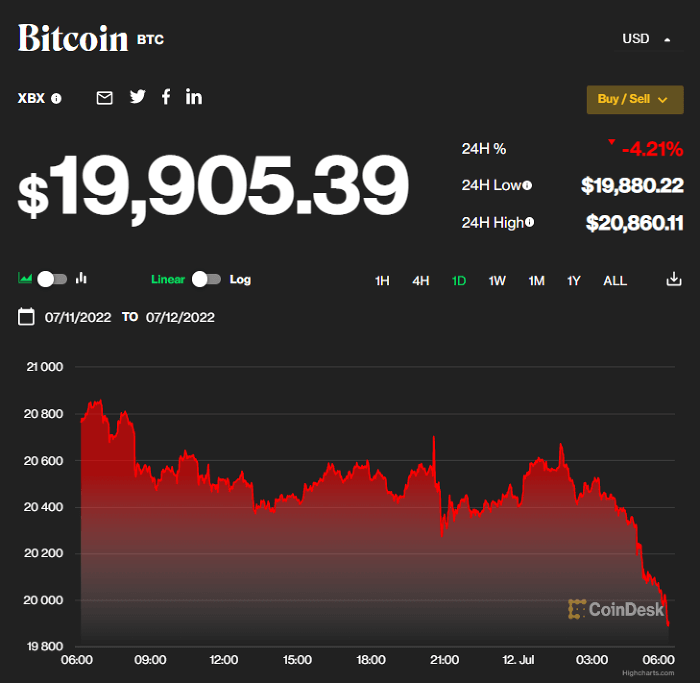 Bitcoin price today at 6:10 am recorded at 19,905.39 USD, down 4.21% compared to 24 hours ago.
Bitcoin has a market value of $381.47 billion, representing 42.9% of the total market value.
In the market, only 8/100 coins increased in price compared to 24 hours ago.
Synthetix was the biggest loser in the last 24 hours, losing 4.49%.
Arweave gained the most at 0.98% on the day.
Among the top 10 coins by market value, 9 out of 10 coins are down from 24 hours ago.
Ethereum lost 1.02%, remaining at $1,097.00.
Tether holds at $0.9992.
USD Coin recorded at 1.00 USD, insignificant change compared to 24 hours ago.
BNB is down 0.82% on the day, to $225.65.
Binance USD decreased slightly 0.11%, to $ 0.9998.
Ripple drops to $0.3128, losing 1.22% on the day.
Cardano is down 1.38% on the day, to $0.4369.
Solana is down 2.84% over the past 24 hours, recording at $33.46.
Dogecoin fell to $0.06165, losing 2.23% on the day.
The total cryptocurrency market value recorded at 6:20 am at $889.32 billion, down $37.61 billion from 24 hours ago.
The 24-hour trading volume on the market reached $52.84 billion, 4.28% lower than on July 11.
GameStop launches NFT market beta
GameStop has just launched a trial version of the NFT exchange, the game retail giant announced on July 11.
GameStop claims the new platform is a "Second Layer, no-storage Ethereum-based marketplace" that allows organizations to truly own their digital assets, expressed and protected on the blockchain.
GameStop launched a storeless Ethereum wallet in May, one of the wallets users can connect to the new market. The company says it will add more features to support "web games, content creators, and other Ethereum environments."
GameStop has announced plans for this crypto market over the past few months. In February, the retailer said it had partnered with Ethereum Layer 2 developer Immutable X to launch the NFT platform.
BIS urges countries to cooperate on CBDC from the beginning
The Bank for International Settlements BIS is pushing central banks to consider working together early in the design of a CBDC central bank digital currency.
The Committee on Settlements and Market Infrastructure of the Bank of International Clearing, the BIS Innovation Center, the International Monetary Fund and the World Bank released a report on July 11 reviewing 3 interactive options assess challenges such as high cost, low speed, poor accessibility and lack of transparency.
According to the author, most research on CBDCs has focused on domestic policy. They went on to consider multiple variables such as accessibility by payment service providers and CBDCs for non-residents to wholesalers and retailers, and integration with the non-CBDC financial system.
Three approaches are given. Conformance, or common standard for multiple CBDC coins, will allow payment service providers to operate across multiple systems. Linkage allows participants to the system to execute contracts, link technicalities, standards and operational elements to perform transactions across systems.
This can be done in several patterns. Finally, a technical system that can run multiple CBDCs at the same time.
International collaboration in CBDC design is essential to overcome cross-border payments challenges, and many CBDC design features remain undecided in many ongoing CBDC projects.
You can see the coin prices here.
Join Cryptotintuc Telegram to follow the news: https://t.me/cryptotintuc
Disclaimer: All For Information Purposes Only And Not To Be Considered As Investment Advice You should do your own research before making an investment decision. Cryptotintuc is not a financial advisor and will not accept any responsibility in connection with your investment.
Cryptotintuc
Source: vietnambiz