Bitcoin price today august 3, 2022 decreased slightly, and the market simultaneously recorded many currencies down. Michael Saylor ceded the CEO position of MicroStrategy to a Vietnamese native.
Bitcoin price fell slightly today, and the market also recorded many currencies falling in price.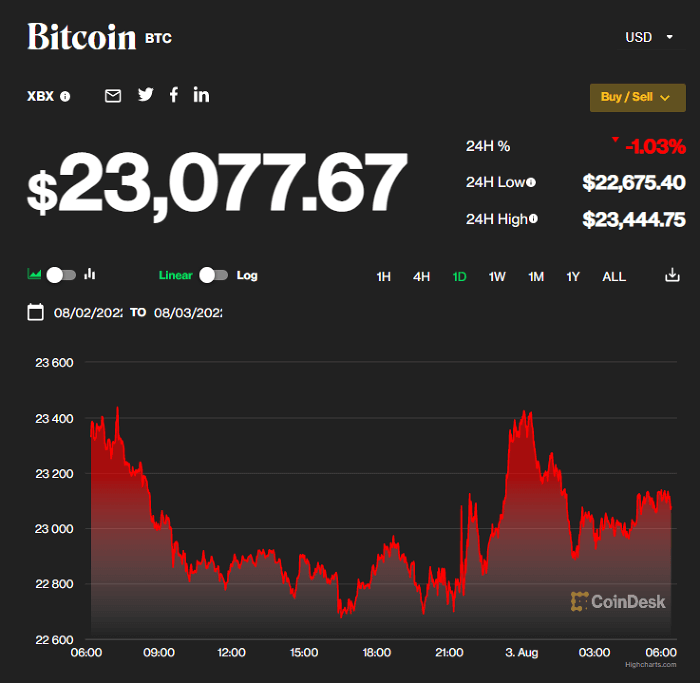 Bitcoin price today recorded at 6:11 am at 23,077.67 USD, down 1.03% compared to 24 hours ago.
In the market, up to 70 of the top 100 coins have decreased in price compared to the previous 24 hours.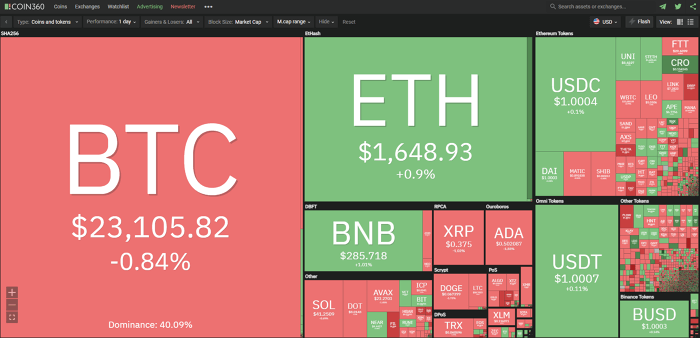 The market's biggest loser was Chiliz, losing 9.72% on the day.
The biggest gainer was Cronos, up 11.42%.
In the top 10, there are all 6/10 coins that have decreased compared to 24 hours ago.
Ethereum is up 0.73% on the day, to $1,647.44.
Tether was slightly down 0.01%, to $1.00.
USD Coin is up 0.02% in the last 24 hours, to $1.00.
BNB rose to $284.55, 0.51% higher than 24 hours ago.
Ripple is down 1.22% on the day, to $0.3748.
Binance USD slightly increased 0.06%, recorded at 1.00 USD.
Cardano fell to $0.501, losing 2.18% on the day.
Solana lost 0.91% in the last 24 hours, to $41.20.
Dogecoin is down 1.96% on the day, to $0.0673.
The total cryptocurrency market value recorded at 6:15 a.m. at $1,071.09 billion, down $5.06 billion from 24 hours ago.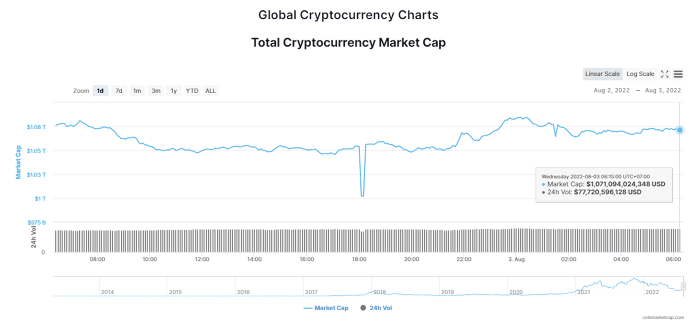 The 24-hour trading volume was recorded at $ 77.72 billion, 6.7% higher than on August 2.
MicroStrategy replaces CEO, bitcoin holding value drops by $918 million in Q2
MicroStrategy recorded a $917.8 million decline in bitcoin holdings in the second quarter, from $170.1 million in the first quarter and $424.8 million in the second quarter of 2021, according to a new quarterly report. most shows.
The business software company also announced it was replacing Phuong Le, the company's president, to replace Michael Saylor as CEO. Mr. Saylor, who has served as CEO and chairman of the board of MicroStrategy since 1989, and took the company public in 1998, will continue to serve as chairman of the board and will hold his new position as chairman of the committee. the company's initial investment, he said in the regular report. Saylor said the role change was a win-win for everyone involved.
The decision to inherit Phong Le was made 7 years ago, since Mr. Phong joined the company and worked closely with Saylor on many projects.
MicroStrategy has continued to hold their bitcoin holdings and positions, despite the recent price drop. During the period from March 5 to June 28, MicroStrategy bought an additional 480 bitcoins for about $10 million, an average price of $20,817/BTC.
PayPal surges with $2 billion investment from Elliott
PayPal is up nearly 13% after reporting a $2 billion investment from the Elliott Investment Fund and $6.27 billion in transaction sales, up 8% from 2021.
"As one of the largest investors in PayPal, with approximately $2 billion in investment value, Elliott strongly believes in PayPal's valuation," said Jesse Cohn, managing partner at Elliott. "Today's announcement marks many of the steps being taken and conceived to help realize a significant value opportunity at the company."
Transaction sales, which account for 92% of total revenue, include fees for buying and selling digital currencies. The company reported total sales of $6.8 billion, up 9% from 2021, and beat expectations by $20 million and non-GAAP earnings per share of $0.93, beating expectations by 0.06 USD, according to Seeking Alpha.
The company's sales are expected to reach more than $27 billion in 2022, compared with about $25 billion in 2021.
You can see the coin prices here . 
Buy all reputable coins at Binance: Binance.com
Follow us at Google News: Google News
Follow us on Twitter: https://twitter.com/cryptotintuc
Join Cryptotintuc Telegram to follow the news: https://t.me/cryptotintuc
Disclaimer : All For Information Purpose Only And Not To Be Considered As Investment Advice You should do your own research before making an investment decision. Cryptotintuc is not a financial advisor and will not accept any responsibility in connection with your investment.