LTC falls below bullish order block Just a week ago, LTC rallied to $61 but got rejected there. This is a bearish move, especially for long-term investors. The market structure continues to remain bearish and the psychological $50 level has been protected for the past few days. However, selling pressure once again escalated.
12 hour LTC chart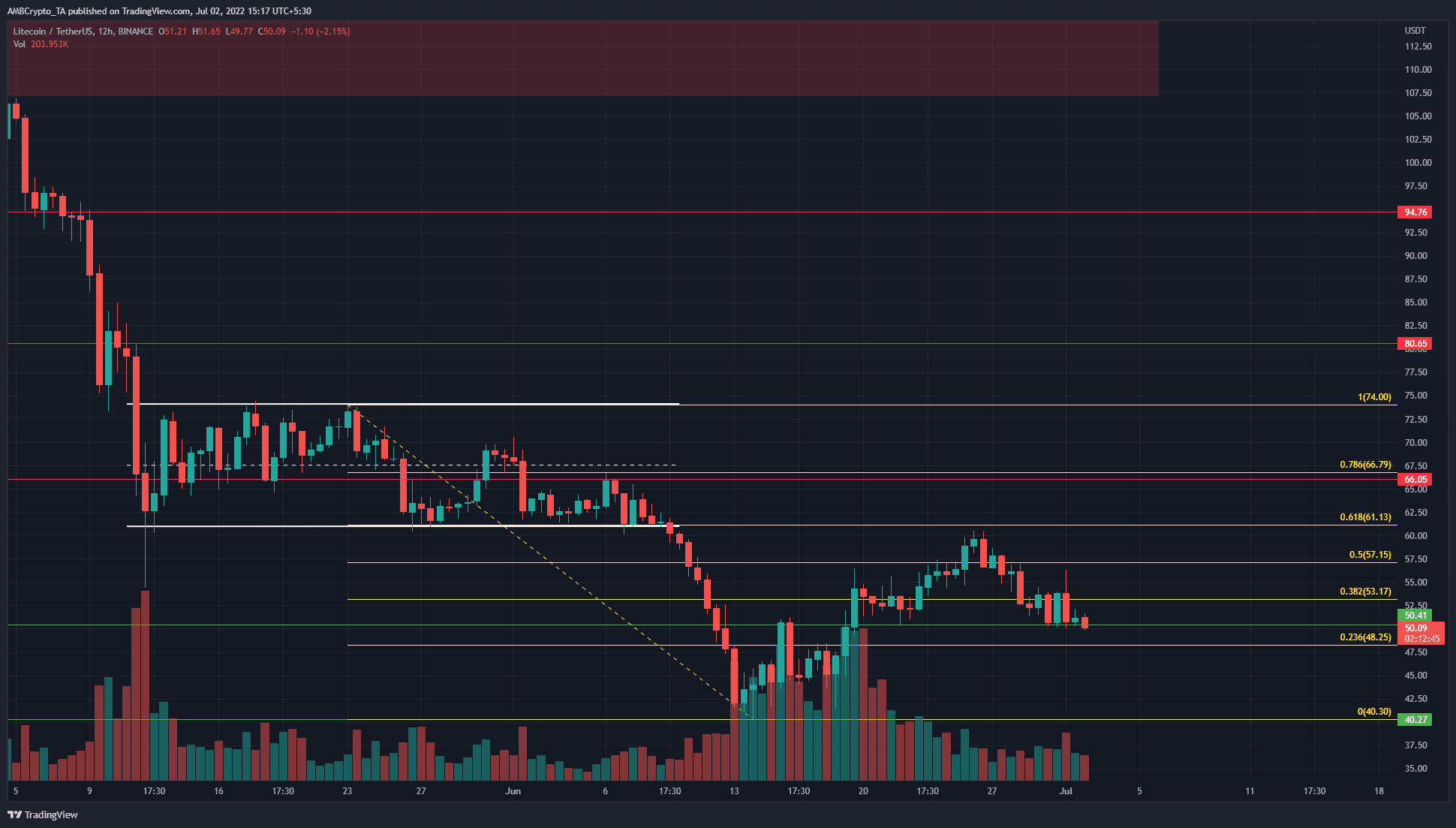 In May, LTC formed a range of $61 to $74 (white). For a week in June, the price failed to hold the bottom of this range. The intense selling wave pushed Litecoin (LTC) down to $40.2. In the following weeks, the price recovered back to the $61 area.
The Fib retracement levels (yellow) show the $61 mark as the 61.8% retracement of the move from $74 to $40.3.
Furthermore, the $61 area is also a range bottom formed in May. The confluence of these two resistance levels is very strong and Litecoin (LTC) faces a possible rejection from the $61 zone.
4 hour LTC chart
A rejection from the $61 area will find some support in the $51-52 area (blue box). This is the demand zone and there is also a bullish block on the 4-hour chart. Furthermore, this zone is just above the long-term horizontal support at $50.4.
Hence, we have a confluence again between the bullish block and the horizontal support. However, the bounce was very weak from this zone.
There have been 2 bounces in the past few days but both failed to close the session above $54. At the time of writing, the price seems to have slipped below both the $50.4 support as well as the demand zone above it.
The 4-hour Relative Strength Index (RSI) slipped below the neutral 50 line a few days ago and retested it as resistance. This shows bearish momentum in favor of the bears. Chaikin Money Flow (CMF) reflects the same with significant capital outflows from the market.
On the other hand, on-balance volume (OBV) does not indicate overwhelming selling pressure. In fact, for the week, it was able to climb higher on the chart and has only fallen slightly over the past 3 days.
Conclusion
Litecoin (LTC) is price action in recent trading sessions proves that the $50-52 area is an important support area. If there is a close below the psychologically important $50, Litecoin (LTC) will move deep south.
Therefore, aggressive sellers can look to short on a close below $50, with a stop-loss just above $52. The Fib retracement level at $48 may provide some weak support, but below it, the $40 area is beckoning.
Source: AMBCrypto
All For Information Purposes Only And Not To Be Considered As Investment Advice You should do your own research before making an investment decision. Cryptotintuc is not a financial advisor and will not accept any responsibility in connection with your investment.