Bitcoin price today july 7 increased slightly, and the market also simultaneously increased in price. The US and South Korea have just agreed to cooperate in investigating a financial case related to cryptocurrencies.
The bitcoin price is up slightly today, and the market sees the majority of the coin gain.
Bitcoin price today recorded at 8:45 am at 20,490.85 USD, up 3.26% compared to 24 hours ago.
In the market, there are 87/100 coins that have increased in price compared to 24 hours ago.
In which, the highest gain in the market belonged to Storj, up 18.85% on the day.
The coin that has lost the most is TerraUSDClassic, which has lost 9.71% in the last 24 hours.
Among the top 10 coins by market value, with the exception of USD Coin, which fell slightly, all of them increased in price.
Ethereum is up 4.38% from 24 hours ago, to $1,183.70.
Tether holds at $0.9991 USD.
USD Coin decreased slightly, to 0.9999 USD.
BNB is up 2.99% on the day to $237.74.
Binance USD is up 0.07%, reaching $1.00.
Ripple rose at a rate of 2.67%, to $0.3329.
Cardano rose to $0.4654, 3.00% higher than 24 hours ago.
Solana rose the most in the top 10 with a rate of 6.09%, recorded at $ 37.19.
Dogecoin is up 3.22% on the day, to $0.0692.
The total cryptocurrency market value recorded at 8:50 am at $922.68 billion, an increase of $27.04 billion compared to 24 hours ago.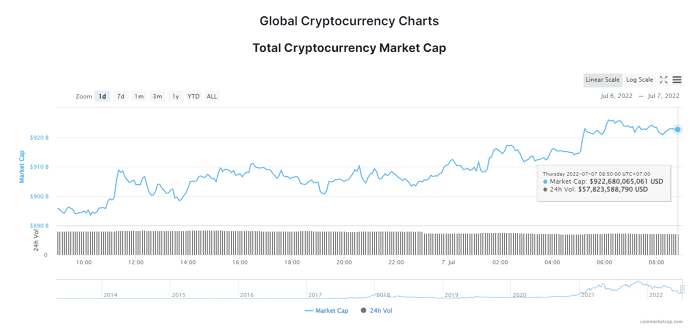 The 24-hour trading volume on the market currently stands at $57.82 billion, down 10.51% from July 6.
Korea and the US agree to share investigation data on Terra
South Korea's Justice Minister Han Dong-hoon was just in New York discussing various ways the two countries can cooperate in investigations related to financial crimes, especially crimes related to digital currencies. .
Hoon met with the co-head of the Securities and Commodity Response Force Andrea M. Griswold at the U.S. Attorney General's Office in the Southern District of New York with Scott Hartman, director of the Securities and Commodities Fraud Response Force. same office on 5/7.
The two sides discussed various ways of exchanging information and strengthening cooperation to ensure timely action against the increase in scams related to the digital currency market, according to local news. The two sides have agreed to share data on the latest investigation surrounding Terra, a project investigated by both countries.
The collapse of the $40 billion Terra system drew attention from both countries. The US recently opened an investigation against the founder of Terra Do Kwon, while South Korea has also considered several penalties for acts such as fraud, market control and tax evasion.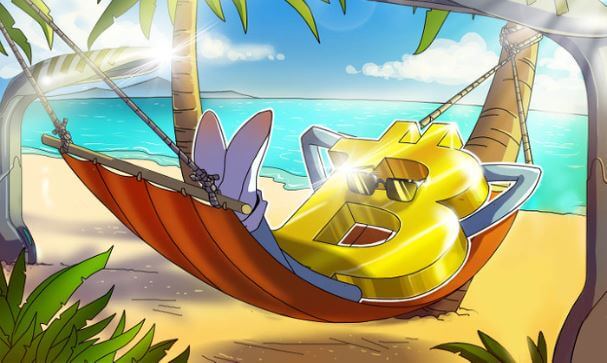 El Salvador's Chivo Bitcoin Wallet Reaches $52 Million in Remittances in 2022
Salvadorans living abroad transferred more than $50 million between January and May 2022, according to the Central Reserve Bank of El Salvador.
Douglas Rodríguez, president of the Central Bank of El Salvador, announced an overview of the country's economy in the local television news program Frente a Frente on July 6.
An impressive figure is 52 million USD transferred via national digital wallet service Chivo in the first 5 months of the year, an increase of 3.9%, 118 million USD compared to the same period in 2021.
Chivo launched in September 2021 when El Salvador became the first country to accept bitcoin legitimacy. The app's launch attracted more than 2 million users in less than a month, resulting in a shock to the national payments platform.
Nhà cung cấp dịch vụ thanh toán được nhà nước cấp phép đã khởi động lại vào tháng 2 năm nay, khi ước tính có khoảng 4 triệu người dùng đang tìm kiếm chi phí thấp hơn cho các khoản thanh toán và chuyển tiền bằng bitcoin. Sàn giao dịch tiền kỹ thuật số của Mỹ AlphaPoint đã tham gia để mở rộng quy mô và giải quyết vấn đề ổn định.