Bitcoin price today july 10 fluctuated slightly, and the market also cooled down. The largest bank in Russia, Sberbank, has just performed the first digital financial transaction on its own blockchain.
Bitcoin price fluctuated slightly today, and the market also showed low volatility.
Bitcoin price today recorded at 7:38 am at 21,498.30 USD, down 0.68% compared to 24 hours ago.
Bitcoin has a market value of $411.16 billion, which is 43% of the total market value.
In the market, there are 77/100 coins that have increased in price compared to 24 hours ago.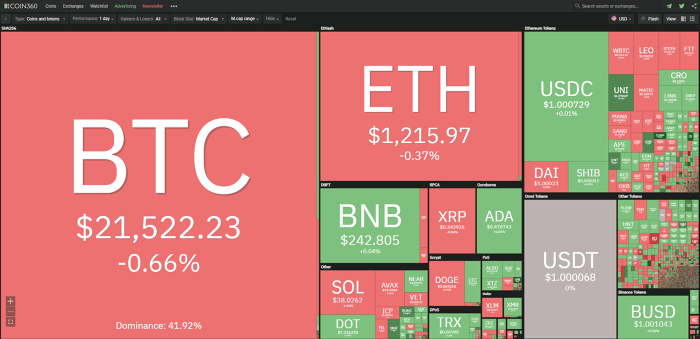 The market's biggest gainer is Harmony, up 5.27% on the day.
The biggest discount in the market recorded Nexo with a decrease of 4.87%.
Among the top 10 coins by market value, 8 out of 10 coins are down from 24 hours ago.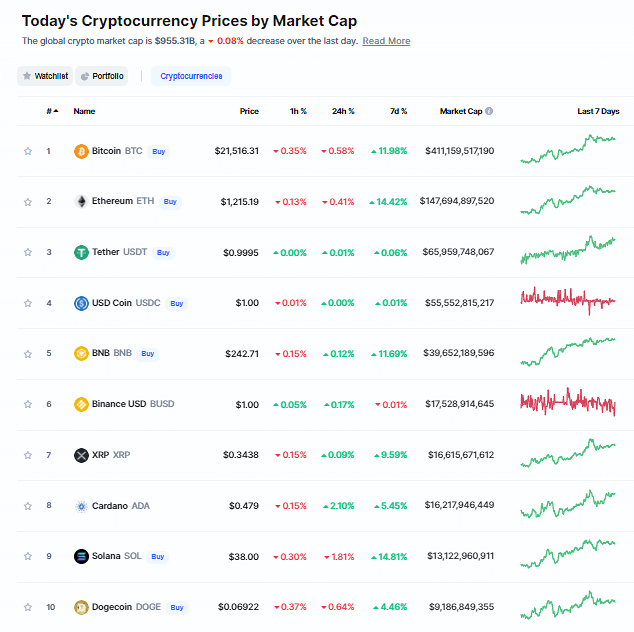 Ethereum fell 0.13%, to $1,215.19.
Tether holds at $0.9995.
USD Coin is down slightly 0.01%, currently at 1.00 USD.
BNB is slightly down 0.15% on the day, to $242.71.
Binance USD is up 0.05%, reaching $1.00.
Ripple is down 0.15% from 24 hours ago, to $0.3438.
Cardano fell 0.15%, to $0.479.
Solana lost 0.3% on the day, to $38.00.
Dogecoin lost 0.37%, remaining $0.06922.
The total value of the cryptocurrency market was recorded at 7:40 am at 954.98 billion USD, down 1.37 billion USD compared to 24 hours ago.
The 24-hour trading volume on the market fell to $5 3.07 billion, 39.36% lower than on July 9.
The largest bank in Russia makes the first transaction on the blockchain
Sberbank, the largest state-owned bank in Russia, conducted the first digital financial asset transaction on the bank's blockchain platform.
As announced on July 9, Sberbank said that it has launched a smart contract blockchain platform and made the first transaction with the SberFactoring branch, issuing 1 billion RUB ($ 15 million) with a term of 3 months .
"The launch of the platform and acting as an operator is the result of the teamwork of many parts of our bank in cooperation with the Central Bank of Russia," said Anatoly Popov, vice president. announced by the Sberbank board of directors.
Popov went on to talk about the research of Sberbank's blockchain division, which first started in 2018, and has now moved into industrial business solutions. "We believe that our platform has good potential, as the digital form has dramatically increased and simplified the process of issuing financial instruments and reduced the cost of entering the market," he said. speak.
Binance offers free trading despite concerns about wash trading
Both traditional and cryptocurrency investors view transaction fees as a significant expense when investing on exchanges. It is therefore not surprising that when Changpeng Zhao CZ, founder and CEO of Binance, asked investors about their interest in free cryptocurrency trading, the response was yes, even though the entrepreneur pointed out the risks. ro.
Binance is the largest cryptocurrency exchange, more than 10 times more than FTX in second place in terms of trading volume. Mr. Zhao launched a survey on Twitter about free trading.
While free trades can be good for many investors, CZ also points out a few processing issues, one of which is wash trading. Wash trade is a transaction in which users execute buy and sell orders continuously to control market activity and become a VIP on Binance.
This will require Binance to implement a range of safeguards, including an illegal transaction detection tool.
Disclaimer: All For Information Purposes Only And Not To Be Considered As Investment Advice You should do your own research before making an investment decision. Cryptotintuc is not a financial advisor and will not accept any responsibility in connection with your investment.
Cryptotintuc
Source: vietnambiz
Join Cryptotintuc Telegram to follow the news: https://t.me/cryptotintuc