Update Cryptocurrency price today July 15, Bitcoin price fluctuates around 20,275.09 USD. According to CoinMarketCap data, the market dominance of the world's largest cryptocurrency Bitcoin has down 0.52 %, 42.39% left starting today.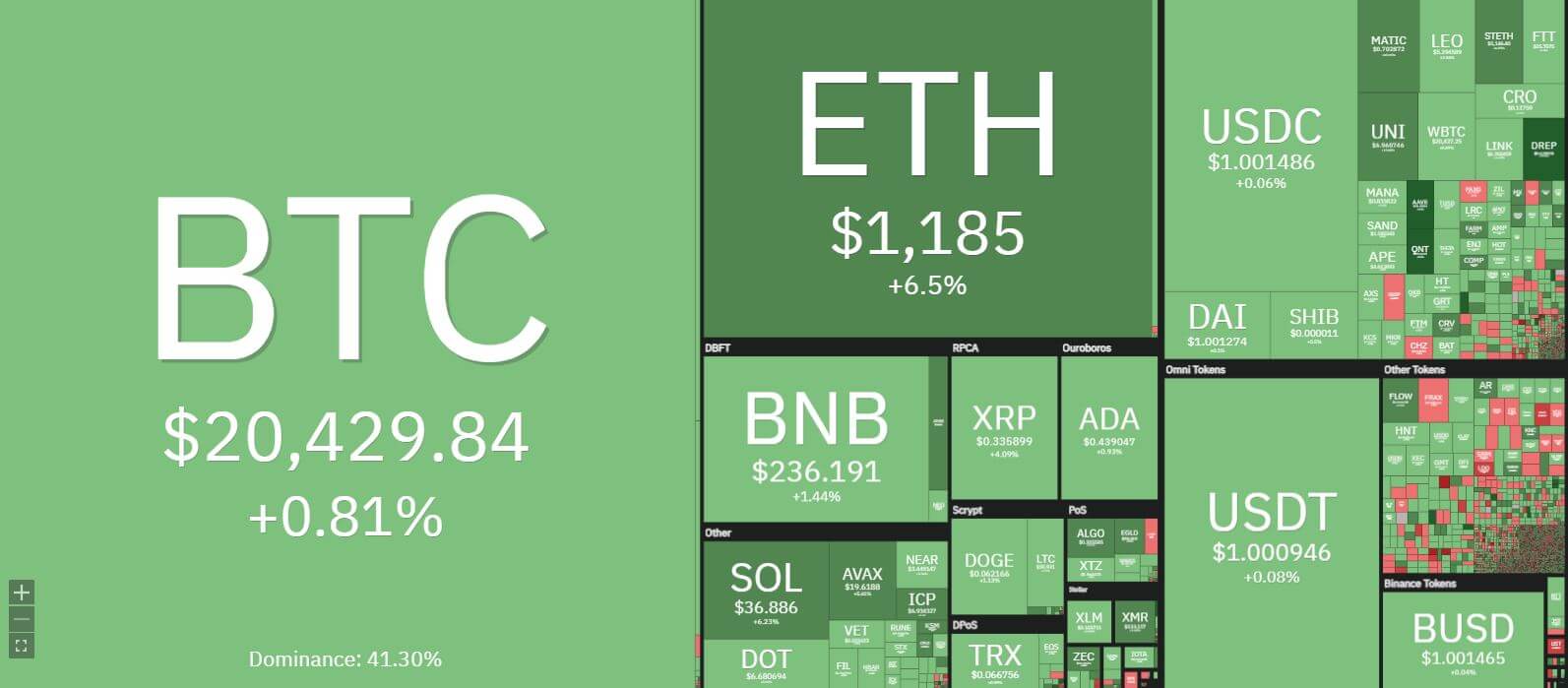 Cryptocurrency price today by market cap
The major cryptocurrencies traded in bullish territory as of early July 15. The global crypto market capitalization at the time of writing is $919.68 billion already up 1.93% compared to the previous day. On the other hand, the total crypto market volume over the last 24 hours is $68.43 billion already 6.09% off
The total volume in DeFi is $6.30 billion, representing 9.20% of the total 24-hour crypto market volume. The volume of all stablecoins is $59.69 billion, representing 87.23% of the total 24-hour crypto market volume.
Bitcoin price at the time of writing is hovering around $ 20,425.69 . According to CoinMarketCap data, the Bitcoin market dominance of the world's largest cryptocurrency has dropped 0.52% to 42.39% starting today.
Bitcoin (BTC) price information and statistics on July 15, 2022
Total Bitcoins
(sum of all currently existing Bitcoin)
19.093.404 BTC
Market Capitalization
(market value of all currently existing Bitcoin)
389.478.692.390 USD
Transactions last 24h
(Number of transactions in blockchain per day)
274.833
Transactions Average per hour
11.451
Bitcoins sent last 24h
2.355.348 BTC ($ 48.045.789.395)
12,34% market cap
Bitcoins sent Average per hour (last 24h)
98.139 BTC (2.001.907.891 USD)
Average Transaction value
8,57 BTC ($ 174,818)
Median Transaction value
0,024 BTC ($ 493,89)
Average Transaction Fee
0,00011 BTC ($ 2,22) 0,00000031 BTC / byte
Median Transaction Fee
0,00005 BTC ($ 1,02 )
Active Addresses last 24h
828.584
Bitcoin Mining Profitability
0,0934 USD / Day for 1 THash / s
WARNING: The article has a certain lag compared to the current price on the market, the information in the article should only be viewed from a reference point of view and should not be considered investment advice .
As of 8:20 am on July 15, this is the price of the largest virtual currencies (digital currencies) (data from coinmarketcap).
| NAME | PRICE (USD) | 24H (%) |
| --- | --- | --- |
| Bitcoin | 20,547.04 | + 0,74 |
| Ethereum | 1.146.29 | + 6,12 |
| Cardano | 0.4565 | + 0,71 |
| Binance coin | 231.57 | + 0,1 |
| XRP | 0.3254 | + 5,47 |
| Solana | 35.40 | + 5,63 |
| Dogecoin | 0.06529 | + 1,09 |
| polkadot | 6.85 | + 3,1 |
| Shiba Inu | 0.0001102 | + 0,23 |
Total crypto market volume in the last 24 hours is $71.82 billion -6.09% off
The speculative phase has begun, but the question is, when will it end?
Explore the synthetic psychology of market participants to help analyze ongoing trends. When the big players reach the 'distribution stage', they start to sell their assets and realize their profits; a bull cycle usually ends.
Meanwhile, retailers are suffering from FOMO and supplying according to market demand. On the other hand, a bearish cycle usually ends when the big players enter the 'accumulation phase' where they start buying money from the underdogs at a discount.
During this "Breakthrough Phase", small players often panic sell their assets and suffer significant losses.
As the Bitcoin price dropped significantly below $20k for the first time since the Covid fall, the gauge fell into the blue range (=-0.09). Historically, the market has seen massive speculation as the index fell into the blue range, starting the next bull cycle.
US inflation soars to the highest level in 40 years
According to the latest Federal Reserve inflation report, the US economy had an inflation rate of 9.1% year-on-year in June, which is the highest level in 40 years. The measure was up 1.3% from a month earlier, marking the biggest month-on-month increase since 2005, as higher fuel, housing and food prices were taken into account.
Although those who call themselves "Bitcoin maximalists" argue that the asset can be used as a hedge against inflation, Bitcoin does not seem to work in this capacity in the past. recent months.
The crypto market has been negatively impacted by the most recent drop and it has had to fight a losing battle to recover its position over the past two months.
Due to the failure of stablecoin Terra in May, a contagion spread between major crypto funds and lenders. This kicked off a domino effect across the entire crypto sector, and it's possible the impact is still ongoing.
You can see the coin prices here .
Follow us at Google News: Google News
Follow us on Twitter: https://twitter.com/cryptotintuc
Join Cryptotintuc Telegram to follow the news: https://t.me/cryptotintuc
Disclaimer : All For Information Purpose Only And Not To Be Considered As Investment Advice You should do your own research before making an investment decision. Cryptotintuc is not a financial advisor and will not accept any responsibility in connection with your investment.
Cryptotintuc
Theo (Coinquora, cryptoquant)