XRP Technical Analysis July 3 XRP bulls have been unable to push the price above $0.4 for the past few days and are currently attempting to form a higher low to preserve the last chance for a bullish structure. However, the market is still in the control of the bears.
Technical analysis
Daily chart
On the daily timeframe, Ripple has lost 15% of its value over the past seven days, as the bears repeatedly challenged the $0.30 support.
The intersection of two descending trendlines (yellow) and long-term horizontal support (green) is located at $0.24. This zone can be considered as a potential demand zone.
Since most of the indicators are in the oversold zone, it is expected that if the price touches this zone, it will initiate a short-term rally.
However, due to macroeconomic events, Ripple is likely to experience a lot of volatility between $0.24 and $0.3.
Key Support Levels: $0.30 & $0.24
Key Resistances: $0.38 & $0.45
The moving averages can provide resistance for the price:
MA20: $ 0.33
MA50: $ 0,37
MA100: $ 0.54
MA200: $ 0,65
XRP/BTC chart
The outlook for the BTC pair is a bit different.
The bulls were able to push the pair up 50% from the lows. This relief rally has encountered horizontal resistance at 1800 SAT. Currently, the price has entered a correction phase. If buyers can defend the horizontal support at 1500 SAT (green) and form a higher low, we can expect the pair to continue moving higher.
Main Support Level: 1500 Sats & 1250 SAT
Key Resistances: 1700 Sats & 1800 SAT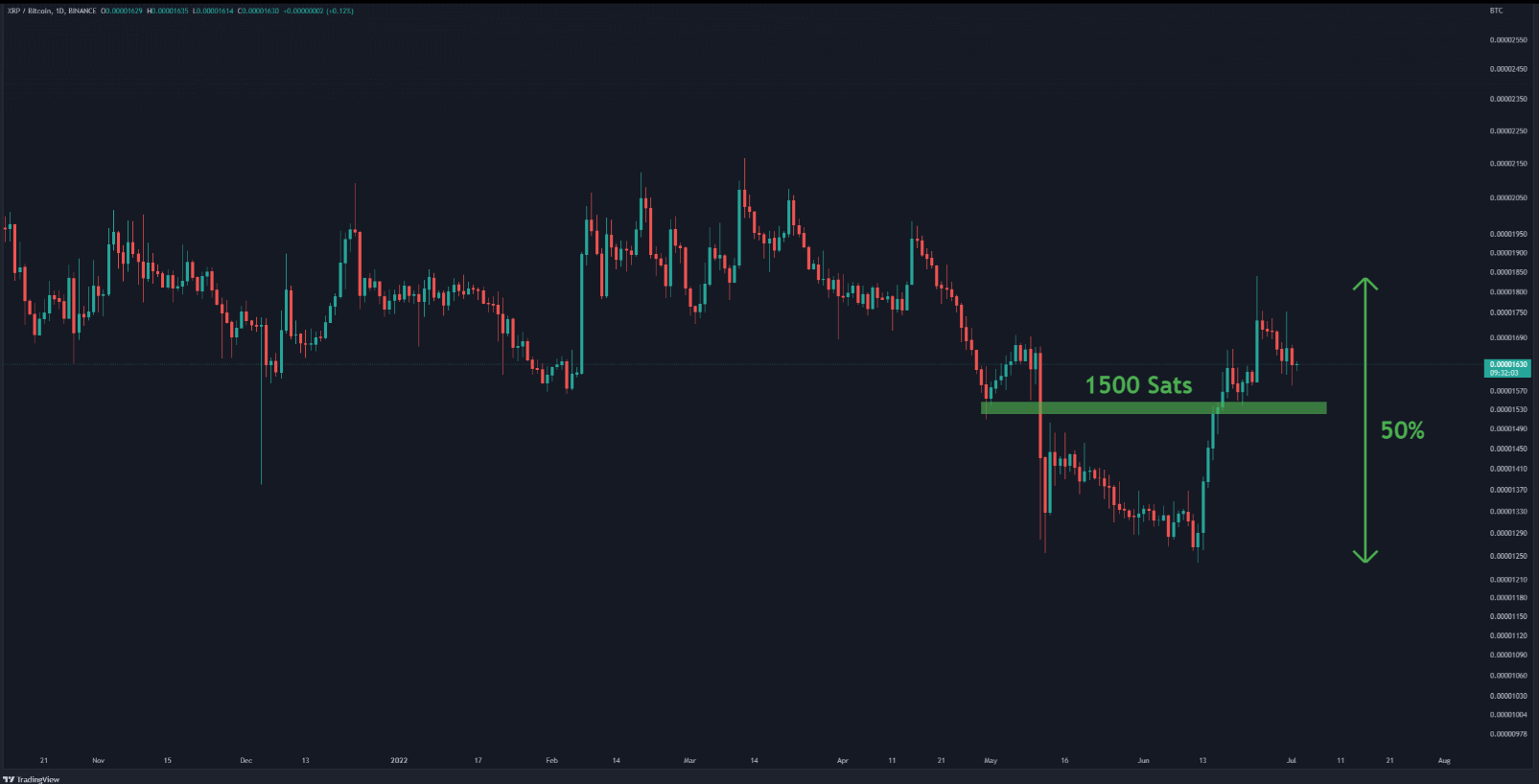 You can see the XRP price here .
Nguồn: cryptopotato
All For Information Purposes Only And Not To Be Considered As Investment Advice You should do your own research before making an investment decision. Cryptotintuc is not a financial advisor and will not accept any responsibility in connection with your investment.